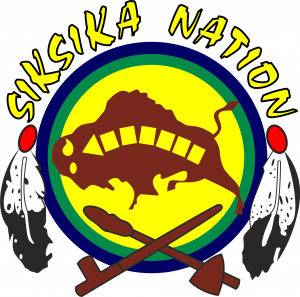 Office of Chief and Council
Government of Siksika Nation
P.O. Box 1100 Siksika, AB T0J 3W0 | (403) 734-5109 | Toll Free 1-800-551-5724 | www.siksikanation.com
---
FOR IMMEDIATE RELEASE
April 19, 2022
SIKSIKA FAMILY SERVICES CORPORATION RAPID HOUSING INITIATIVE – AFFORDABLE/TRANSITIONAL HOUSING
Siksika Nation Chief and Council are excited to announce the development of the Rapid Housing Initiative – Affordable/Transitional Housing for High-Risk Families. On April 25th, 2022 at 11 AM Siksika Family Services, SORAH and Crawford Construction will gather for a ground-breaking ceremony that will acknowledge and announce Siksika's first affordable/transitional housing initiative/project for our high-risk children and families.
This new community will be located at the Deerfoot NTN's adjacent to the powerplant, in the south east quadrant off highway 901 and 547. This unique housing concept is historical and will provide a holistic approach to Siksika families requiring 24/7 supportive living; a traditional Siksika way of life will be foundational.
"One of the biggest challenges facing Siksika members living on-reserve is the lack of adequate housing. Having our basic humans needs met is essential to growing and thriving as individuals and as a community. With the creation of these housing units, many families will now have a place to call home, and be able to focus on getting back on their feet and improving their lives. I am extremely proud of the work that SORAH and SFSC has accomplished in this area." – Councillor Samuel Crowfoot, Siksika Nation Chief and Council and Siksika Family Services Corporation Chair
"The need for affordable housing in Siksika is great, and a long time waiting. The Rapid Housing Initiative has granted us an opportunity to make a difference for many relatives; especially our vulnerable populations such as the homeless, individuals, children and families in crisis or fleeing violence, individuals with disabilities, seniors, and individuals with health concerns. This Initiative will support our plans to establish transitional housing with wrap-around social development programs for a better future. Together we can make the difference." – Merlin Breaker, Siksika Family Services CEO
BACKGROUND:
A joint application was submitted between SFSC and SORAH on December 30, 2020. SORAH- SFSC was notified in June 2021 by CMHC of the release of additional funds for the CMHC Rapid Housing Initiative 2 ("RHI-2"). On August 30, 2021, SORAH and SFSC submitted the following three applications to CMHC:
SORAH-SFSC Transitional and Affordable Housing Project (Low Rise)
SORAH-SFSC Transitional and Affordable Housing Project (Single unit) • SORAH-SFSC Transitional and Affordable Housing Project (Duplexes)
The RHI-2 has a short time frame to complete the project from the Contribution Agreement signing. SORAH-SFSC must complete the project with occupancy within one year. The requirement also includes having a minimum of 25% of the properties completed and occupied within 4-6 months.
ABOUT SIKSIKA FAMILY SERVICES CORPORATION
Siksika Family Services Corporation (SFSC) includes nine program entities of Siksika Children's Services, Siksika Support for Independence (Social Development), Siksika Employment and Training Services, Siksika Day Care, Siksika Preventative Social Services, Henry Three Suns Child and Youth Society, Siksika Career Employment and Income Support, Siksika Band Designate and Siksika Shelter; all of which are an integral part of SFSC (incorporated as a non-for-profit on December 21, 1989 under the Alberta Companies Act). Each service was established to advocate for the best interest, safety and well-being of all children, youth and their families that we serve. Together we are guided by the vision of our Board of Directors: "Strong Families, Strong Communities."
Siksika Family Services will continue to provide, support and empower Siksika people to become self-sufficient and encouraged holistically; encompassing the Siksika Way of Life "Siksika Nitsipaitawpiyopi."
ABOUT SIKSIKA NATION
Since time immemorial, the Children of the Plains, the Siksikai'tsitapi – Blackfoot People, have lived in and protected a territory that stretches from the North Saskatchewan River in present day Alberta and Saskatchewan to the Yellowstone River in the state of Montana, from the Continental Divide in the west to Regina in the province now known as Saskatchewan.
Today, Siksika Nation population is approximately 7800+ and is part of the Siksikaitsitapi – Blackfoot Confederacy. The Siksikaitsitapi refers to four Indigenous Nations which make up the Blackfoot people: the Siksika (Blackfoot), the Kainai (Many Chiefs), the Apatohsipiikani (Northern Peigan) and Amsskapipiikani (Southern Peigan). Siksikai'powahsini (Blackfoot Language) is the language of the Siksikaitsitapi.