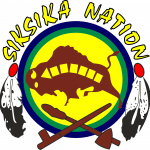 Office of Chief and Council
Government of Siksika
P.O. Box 1100 Siksika, AB T0J 3W0 | (403) 734-5109 | Toll Free 1-800-551-5724 | www.siksikanation.com
---
Community Engagement Policing Business Case Questionnaire
"Your inputs matters to Siksika Nation."
Siksika Nation is developing a business case for a "Police Service for the Nation." Your input is valuable to this process as we begin this journey for Siksika Nation. Siksika Nation members are invited to share their ideas on this proposed service by completing a short questionnaire.
The questionnaire can be completed one of three ways:
Member(s) can fill it out online here.
Member(s) can fill it out in-person at the Administration building. Contact Ola Koleoso.
Member(s) can download a copy below or request by email. Send completed copy to Olak@siksikanation.com
Extended Deadline: April 30th, 2022 at 4 pm
For more information contact Siksika Nation Chief and Council Liaison Ola Koleoso at Olak@siksikanation.com
Approved by Chief and Council, Siksika Nation.
---